5-Star, State Of The Art Chiropractic Care In Somerset
Natural Healing Starts Here
Quality spinal care is an important part of healthy living. Our approach is a holistic one that understands that optimal human performance is achieved on an individual basis. We are grounded in science and all treatments are 100% backed by empirical research.
You'll feel at ease in our Studio with our friendly doctors and welcoming staff in the heart of Orchard. There are warm smiles and familiar faces all around. Always feel welcome & understood, with our team that can speak over 5 languages; including Mandarin, Malay, Cantonese, Korean and English.
Every Studio Member is like family to us –
Call +65 6909 2701 or WhatsApp us now!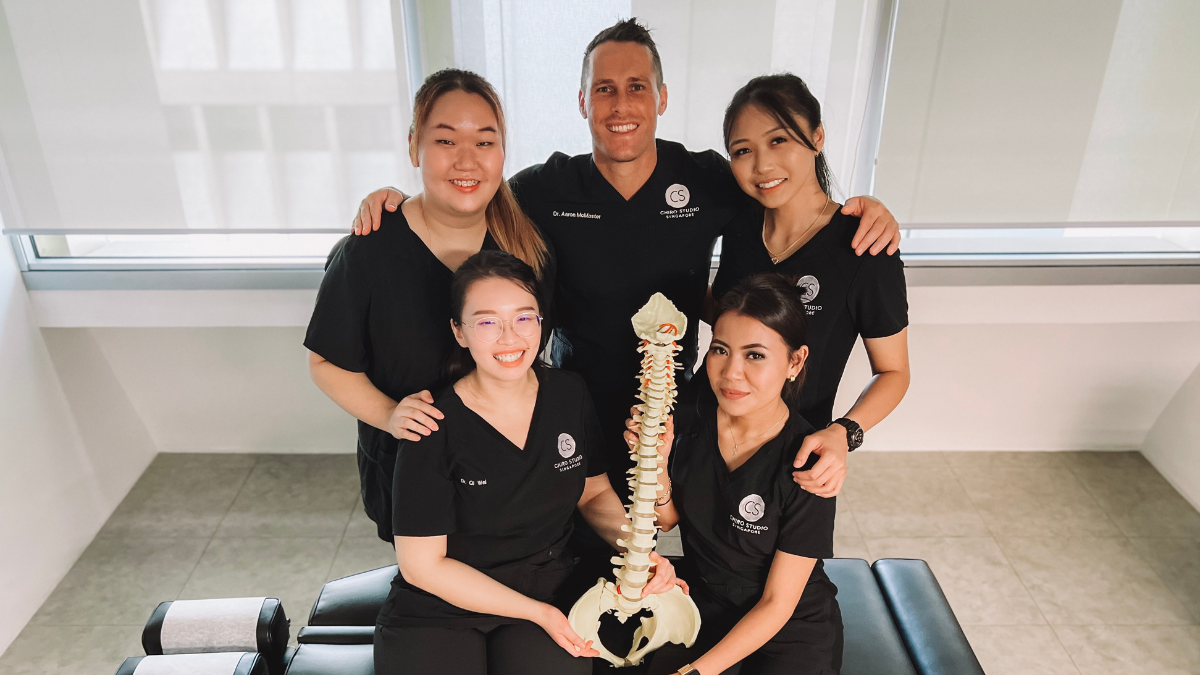 Book your $50 New Patient Offer today!
You'll receive a 30-minute comprehensive consultation and a detailed examination where we'll use the latest technology to accurately identify the root cause(s) of your problems.
Our doctors will create a fully customized treatment plan designed to get you back on track and feeling like the BEST version of yourself!
Get started today –
Call +65 6909 2701, Whatsapp us, or request an appointment online below!
We work to promote healthy spinal movement and alignment to ensure there is no nervous system interference. without interference your body is able to function at 100%.
Our doctors are well versed in many techniques and use combination of Activator®, Thompson, and Diversified methods. Their hands-on approach to care and conducts most of the treatment with their hands and using the assistance of an Omni® drop table.
We conduct a thorough examination and assessment prior to rendering any adjustment to ensure specificity and safety of our care. It's a gradual journey, not a quick fix, and we want to ensure we're being as comprehensive as possible.
There are so many benefits to chiropractic care. A study conducted by the National Institute of Health has shown that spinal manipulation is a very effective treatment for adults with low back pain, migraines, and dizziness. Chiropractic care prevents injuries and increases whole body function. Other benefits of chiropractic care include:

Improved joint mobility, function, and health
Decreases degeneration of the joint and connective tissue
Decreases inflammation
Improves circulation
Speeds up recovery
Strengthens the immune system
Improves digestion
Enhances mind-body connection
Activates the body's natural relaxation state
Supports sleep
Supports pregnancy and infant brain development
Decreases stress responses
Decreases pain
Shortens recovery time
Immune support

We believe that as a lifestyle chiropractor, the more frequently members receive spinal care, the better they will feel. However, he is very respectful of where his members are. He is eager to meet you and support you and welcome you to Chiropractic Studio Singapore, where our members truly are our family.
Get started with our $50 New Patient Special –
Call +65 6909 2701, Whatsapp us, or request an appointment online below!
Request Your Appointment Online